Binary Tree in ASP.NET
Earlier i have done number of Multi Level Marketing projects. In these projects there is major role of Binary Tree. There are different type of plans and as per plan Tree structure will differ but here i am going to show only very simple sample to show Binary Tree on asp.net page using Images.
In this example you can navigate up/down by clicking on id also in the example there are three types of images which represents different type of joinings. Red for Free, Green for Paid and Silver is a blank space and you can click on blank id so that you can navigate on registration page with parent id so that you can do a new registration under that parent also no need to select left or right side as you already selected image either left or right.
So here is the image which will show: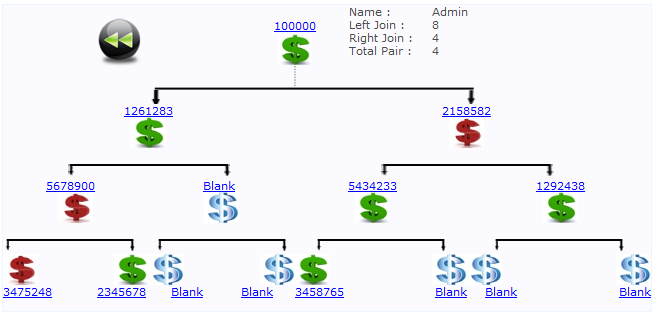 Data Base structure:
Designer code on aspx:
<%@ Page Language="C#" AutoEventWireup="true" CodeFile="Default.aspx.cs" Inherits="_Default" %>
 
<!DOCTYPE html PUBLIC "-//W3C//DTD XHTML 1.0 Transitional//EN" "http://www.w3.org/TR/xhtml1/DTD/xhtml1-transitional.dtd">
 
<html xmlns="http://www.w3.org/1999/xhtml">
<head runat="server">
    <title></title>
    <style type="text/css">
 
.contentdisplay3 {
border: 1px solid #ECF4FF;
background-color: #fbfbff;
text-align: left;
color: #4b4b4b;
font-size: 11px;
font-weight: normal;
font-family: verdana, arial, helvetica, sans-serif;
text-decoration: none;
    width: 650px;
}
    </style>
</head>
<body>
    <form id="form1" runat="server">
    <div>
     
     <table align="center" border="0" cellpadding="0" cellspacing="0"
            class="contentdisplay3" width="600">
            <tr>
                <td scope="row">
                     </td>
                <td>
                     </td>
                <td>
                     </td>
                <td>
                     </td>
                <td>
                     </td>
                <td>
                     </td>
                <td>
                     </td>
                <td align="left" colspan="5" rowspan="3" valign="top">
                    <table border="0" cellpadding="0" cellspacing="0" class="Tree" width="280">
                        <tr>
                            <td align="left" class="style5" scope="row" valign="top">
                                Name :</td>
                            <td width="197">
                                <asp:Label ID="lblname" runat="server"></asp:Label>
                            </td>
                        </tr>
                        <tr>
                            <td align="left" class="style5" scope="row" valign="top">
                                Left Join :</td>
                            <td>
                                <asp:Label ID="lblljoin" runat="server"></asp:Label>
                            </td>
                        </tr>
                        <tr>
                            <td align="left" class="style5" scope="row" valign="top">
                                Right Join :</td>
                            <td>
                                <asp:Label ID="lblrjoin" runat="server"></asp:Label>
                            </td>
                        </tr>
                        <tr>
                            <td align="left" class="style5" scope="row" valign="top">
                                Total Pair :</td>
                            <td>
                                <asp:Label ID="lblpair" runat="server"></asp:Label>
                            </td>
                        </tr>
                    </table>
                </td>
            </tr>
            <tr>
                <td scope="row">
                     </td>
                <td>
                     </td>
                <td colspan="2" rowspan="2" valign="top">
                    <asp:ImageButton ID="ImgBack" runat="server"
                        ImageUrl="~/TreeImages/backward-48.png" onclick="ImgBack_Click"
                        ToolTip="Back To Up" />
                </td>
                <td>
                     </td>
                <td colspan="2" style="text-align: center">
                    <asp:LinkButton ID="Lb1" runat="server" onclick="Lb1_Click"></asp:LinkButton>
                </td>
            </tr>
            <tr>
                <td scope="row">
                     </td>
                <td>
                     </td>
                <td>
                     </td>
                <td align="center" colspan="2">
                    <img id="i1" runat="server" alt="" height="31" src="~/TreeImages/G.jpg"
                        width="35" /></td>
            </tr>
            <tr>
                <td scope="row">
                     </td>
                <td>
                     </td>
                <td>
                     </td>
                <td>
                     </td>
                <td>
                     </td>
                <td align="center" colspan="2">
                    <img height="20"
                        src="TreeImages/Treeview_107.jpg"
                        width="2" /></td>
                <td>
                     </td>
                <td>
                     </td>
                <td>
                     </td>
                <td>
                     </td>
                <td>
                     </td>
            </tr>
            <tr>
                <td scope="row">
                     </td>
                <td>
                     </td>
                <td align="center" colspan="8" valign="top">
                    <img height="18"
                        src="TreeImages/level1.png" style="width: 338px" /></td>
                <td>
                     </td>
                <td>
                     </td>
            </tr>
            <tr>
                <td scope="row">
                     </td>
                <td>
                     </td>
                <td align="center" colspan="2">
                    <asp:LinkButton ID="Lb2L" runat="server" onclick="Lb2L_Click"></asp:LinkButton>
                </td>
                <td>
                     </td>
                <td>
                     </td>
                <td>
                     </td>
                <td>
                     </td>
                <td align="center" colspan="2" valign="top">
                    <asp:LinkButton ID="Lb3R" runat="server" onclick="Lb3R_Click"></asp:LinkButton>
                </td>
                <td>
                     </td>
                <td>
                     </td>
            </tr>
            <tr>
                <td scope="row">
                     </td>
                <td width="34">
                     </td>
                <td align="center" colspan="2">
                    <img id="i2" runat="server" alt="" height="31"
                        src="~/TreeImages/R.jpg" width="35" />
                </td>
                <td width="34">
                     </td>
                <td>
                     </td>
                <td>
                     </td>
                <td width="34">
                     </td>
                <td align="center" colspan="2" valign="top">
                    <img id="i3" runat="server" alt="" height="31"
                        src="~/TreeImages/R.jpg" width="35" /></td>
                <td width="34">
                     </td>
                <td>
                     </td>
            </tr>
            <tr>
                <td scope="row" width="50">
                     </td>
                <td width="34">
                     </td>
                <td align="center" colspan="2">
                    <img height="20"
                        src="~/TreeImages/Treeview_107.jpg"
                        width="2" /></td>
                <td width="34">
                     </td>
                <td width="50">
                     </td>
                <td width="50">
                     </td>
                <td width="34">
                     </td>
                <td align="center" colspan="2">
                    <img height="20"
                        src="~/TreeImages/Treeview_107.jpg"
                        width="2" /></td>
                <td width="34">
                     </td>
                <td width="50">
                     </td>
            </tr>
            <tr>
                <td scope="row" width="50">
                     </td>
                <td align="center" colspan="4" valign="top">
                    <img height="18"
                        src="TreeImages/Level2.png"
                        width="168" /></td>
                <td width="50">
                     </td>
                <td width="50">
                     </td>
                <td align="center" colspan="4" valign="top">
                    <img height="18"
                        src="TreeImages/Level2.png" style="width: 178px" /></td>
                <td width="50">
                     </td>
            </tr>
            <tr>
                <td align="right" colspan="2" height="12" scope="row" valign="middle">
                    <asp:LinkButton ID="Lb4L" runat="server" onclick="Lb4L_Click"></asp:LinkButton>
                </td>
                <td align="left" height="12" valign="middle">
                     </td>
                <td height="12">
                     </td>
                <td align="left" colspan="2" height="12" valign="top">
                    <asp:LinkButton ID="Lb5R" runat="server" onclick="Lb5R_Click"></asp:LinkButton>
                </td>
                <td align="right" colspan="2" height="12">
                    <asp:LinkButton ID="Lb6L" runat="server" onclick="Lb6L_Click"></asp:LinkButton>
                </td>
                <td height="12">
                     </td>
                <td height="12">
                     </td>
                <td align="left" colspan="2" height="12" valign="top">
                    <asp:LinkButton ID="Lb7R" runat="server" onclick="Lb7R_Click"></asp:LinkButton>
                </td>
            </tr>
            <tr>
                <td align="right" height="30" scope="row" valign="middle" width="50">
                     </td>
                <td align="center" height="30" width="34">
                    <img id="i4" runat="server" alt="" height="31"
                        src="~/TreeImages/R.jpg" width="35" /></td>
                <td align="left" height="30" valign="middle" width="50">
                     </td>
                <td height="30" width="50">
                     </td>
                <td align="center" height="30" valign="top" width="34">
                    <img id="i5" runat="server" alt="" height="31"
                        src="~/TreeImages/R.jpg" width="35" /></td>
                <td height="30" width="50">
                     </td>
                <td height="30" width="50">
                     </td>
                <td align="center" height="30" valign="top" width="34">
                    <img id="i6" runat="server" alt="" height="31"
                        src="~/TreeImages/R.jpg" width="35" /></td>
                <td height="30" width="50">
                     </td>
                <td height="30" width="50">
                     </td>
                <td align="center" height="30" valign="top" width="34">
                    <img id="i7" runat="server" alt="" height="31"
                        src="~/TreeImages/R.jpg" width="35" /></td>
                <td height="30" width="50">
                     </td>
            </tr>
            <tr>
                <td scope="row">
                     </td>
                <td align="center" width="34">
                    <img height="20"
                        src="~/TreeImages/Treeview_107.jpg"
                        width="2" /></td>
                <td>
                     </td>
                <td>
                     </td>
                <td align="center" width="34">
                    <img height="20"
                        src="~/TreeImages/Treeview_107.jpg"
                        width="2" /></td>
                <td>
                     </td>
                <td>
                     </td>
                <td align="center" width="34">
                    <img height="20"
                        src="~/TreeImages/Treeview_107.jpg"
                        width="2" /></td>
                <td>
                     </td>
                <td>
                     </td>
                <td align="center" width="34">
                    <img height="20"
                        src="~/TreeImages/Treeview_107.jpg"
                        width="2" /></td>
                <td>
                     </td>
            </tr>
            <tr>
                <td colspan="3" scope="row" valign="top">
                    <img height="18"
                        src="TreeImages/level3.png"
                        width="134" /></td>
                <td align="center" colspan="3" valign="top">
                    <img alt="" height="18"
                        src="TreeImages/level3.png"
                        width="134" /></td>
                <td align="center" colspan="3" valign="top">
                    <img alt="" height="18"
                        src="TreeImages/level3.png"
                        width="134" /></td>
                <td align="center" colspan="3" valign="top">
                    <img alt="" height="18"
                        src="TreeImages/level3.png"
                        width="134" /></td>
            </tr>
            <tr>
                <td align="left" scope="row" valign="top" width="50">
                    <img id="i8" runat="server" height="31"
                        src="~/TreeImages/R.jpg" width="35" /></td>
                <td width="34">
                     </td>
                <td align="right" valign="top" width="50">
                    <img id="i9" runat="server" height="31"
                        src="~/TreeImages/R.jpg" width="35" /></td>
                <td align="left" valign="top" width="50">
                    <img id="i10" runat="server" alt="" height="31"
                        src="~/TreeImages/R.jpg" width="35" /></td>
                <td width="34">
                     </td>
                <td align="right" valign="top" width="50">
                    <img id="i11" runat="server" alt="" height="31"
                        src="~/TreeImages/R.jpg" width="35" /></td>
                <td align="left" valign="top" width="50">
                    <img id="i12" runat="server" alt="" height="31"
                        src="~/TreeImages/R.jpg" width="35" /></td>
                <td width="34">
                     </td>
                <td align="right" valign="top" width="50">
                    <img id="i13" runat="server" alt="" height="31"
                        src="~/TreeImages/R.jpg" width="35" /></td>
                <td align="left" valign="top" width="50">
                    <img id="i14" runat="server" alt="" height="31"
                        src="~/TreeImages/R.jpg" width="35" /></td>
                <td width="34">
                     </td>
                <td align="right" valign="top" width="50">
                    <img id="i15" runat="server" alt="" height="31"
                        src="~/TreeImages/R.jpg" width="35" /></td>
            </tr>
            <tr>
                <td align="left" scope="row">
                    <asp:LinkButton ID="Lb8L" runat="server" onclick="Lb8L_Click"></asp:LinkButton>
                </td>
                <td>
                     </td>
                <td style="text-align: center">
                    <asp:LinkButton ID="Lb9R" runat="server" onclick="Lb9R_Click"></asp:LinkButton>
                </td>
                <td align="right">
                    <asp:LinkButton ID="Lb10L" runat="server" onclick="Lb10L_Click"></asp:LinkButton>
                </td>
                <td>
                     </td>
                <td>
                    <asp:LinkButton ID="Lb11R" runat="server" onclick="Lb11R_Click"></asp:LinkButton>
                </td>
                <td>
                    <asp:LinkButton ID="Lb12L" runat="server" onclick="Lb12L_Click"></asp:LinkButton>
                </td>
                <td>
                     </td>
                <td style="text-align: right">
                    <asp:LinkButton ID="Lb13R" runat="server" onclick="Lb13R_Click"></asp:LinkButton>
                </td>
                <td align="center">
                    <asp:LinkButton ID="Lb14L" runat="server" onclick="Lb14L_Click"></asp:LinkButton>
                </td>
                <td>
                     </td>
                <td style="text-align: right">
                    <asp:LinkButton ID="Lb15R" runat="server" onclick="Lb15R_Click"
                        style="text-align: right"></asp:LinkButton>
                </td>
            </tr>
            <tr>
                <td scope="row" width="50">
                     </td>
                <td width="34">
                     </td>
                <td width="50">
                     </td>
                <td width="50">
                     </td>
                <td width="34">
                     </td>
                <td width="50">
                     </td>
                <td width="50">
                     </td>
                <td width="34">
                     </td>
                <td width="50">
                     </td>
                <td width="50">
                     </td>
                <td width="34">
                     </td>
                <td width="50">
                     </td>
            </tr>
        </table>
     
    </div>
    </form>
</body>
</html>
Code on page:
using System;
using System.Collections.Generic;
using System.Linq;
using System.Web;
using System.Web.UI;
using System.Web.UI.WebControls;
using System.Collections;
using System.Data;
using System.Data.SqlClient;
using System.Configuration;
 
public partial class _Default : System.Web.UI.Page
{
    string L = "0", R = "";
    ArrayList bk;
    SqlConnection con = new SqlConnection(ConfigurationManager.AppSettings["str"]);
    SqlCommand cmd;
    SqlDataReader dr;
    string jointype, reduserid, redside;
    protected void Page_Load(object sender, EventArgs e)
    {
        if (!IsPostBack)
        {
            detail("100000");
            Lb1.Text = "100000";
            bk = new ArrayList();
            bk.Add(Lb1.Text);
            Session["temp"] = bk;
        }
    }
    protected void Lb1_Click(object sender, EventArgs e)
    {
        LinkButton btn = (LinkButton)sender;
        string val = btn.Text;
        bk = ((ArrayList)Session["temp"]);
        bk.Add(val);
        Session["temp"] = bk;
        detail(btn.Text);
    }
 
    public void check()
    {
        Lb2L.Text = "Blank";
        Lb3R.Text = "Blank";
        Lb4L.Text = "Blank";
        Lb5R.Text = "Blank";
        Lb6L.Text = "Blank";
        Lb7R.Text = "Blank";
        Lb8L.Text = "Blank";
        Lb9R.Text = "Blank";
        Lb10L.Text = "Blank";
        Lb11R.Text = "Blank";
        Lb12L.Text = "Blank";
        Lb13R.Text = "Blank";
        Lb14L.Text = "Blank";
        Lb15R.Text = "Blank";
        i2.Src = "TreeImages/R.jpg";
        i3.Src = "TreeImages/R.jpg";
        i4.Src = "TreeImages/R.jpg";
        i5.Src = "TreeImages/R.jpg";
        i6.Src = "TreeImages/R.jpg";
        i7.Src = "TreeImages/R.jpg";
        i8.Src = "TreeImages/R.jpg";
        i9.Src = "TreeImages/R.jpg";
        i10.Src = "TreeImages/R.jpg";
        i11.Src = "TreeImages/R.jpg";
        i12.Src = "TreeImages/R.jpg";
        i13.Src = "TreeImages/R.jpg";
        i14.Src = "TreeImages/R.jpg";
        i15.Src = "TreeImages/R.jpg";
    }
 
    public void detail(string usr)
    {
        DataTable userD = new DataTable();
        TreeShow ss = new TreeShow();
        userD = ss.fillUserDetail(usr);
        if (userD.Rows.Count != 0)
        {
            Lb1.Text = usr;
            lblname.Text = userD.Rows[0]["name"].ToString();
            lblljoin.Text = userD.Rows[0]["ljoining"].ToString();
            lblrjoin.Text = userD.Rows[0]["rjoining"].ToString();
            lblpair.Text = userD.Rows[0]["pair"].ToString();
            string jointype = userD.Rows[0]["jointype"].ToString();
            if (jointype == "Paid")
            {
                i1.Src = "TreeImages/B.jpg";
            }
            else
            {
                i1.Src = "TreeImages/G.jpg";
            }
        }
 
        check();
        ss.find(Lb1.Text, out L, out R);
        string l2 = L.ToString();
        string r3 = R.ToString();
        if (l2 != "")
        {
            Lb2L.Visible = true;
            Lb2L.Text = l2;
            cmd = new SqlCommand("select jointype from User_Detail where userid='" + l2 + "'", con);
            con.Open();
            dr = cmd.ExecuteReader();
            if (dr.Read())
            {
                jointype = dr[0].ToString();
            }
            con.Close();
            if (jointype == "Paid")
            {
                i2.Src = "TreeImages/B.jpg";
            }
            else
            {
                i2.Src = "TreeImages/G.jpg";
            }
            ss.find(l2, out L, out R);
            string l4 = L.ToString();
            string r5 = R.ToString();
 
            if (l4 != "")
            {
                Lb4L.Visible = true;
                Lb4L.Text = l4;
                cmd = new SqlCommand("select jointype from User_Detail where userid='" + l4 + "'", con);
                con.Open();
                dr = cmd.ExecuteReader();
                if (dr.Read())
                {
                    jointype = dr[0].ToString();
                }
                con.Close();
                if (jointype == "Paid")
                {
                    i4.Src = "TreeImages/B.jpg";
                }
                else
                {
                    i4.Src = "TreeImages/G.jpg";
                }
                ss.find(l4, out L, out R);
                string l8 = L.ToString();
                string r9 = R.ToString();
 
                if (l8 != "")
                {
                    Lb8L.Visible = true;
                    Lb8L.Text = l8;
                    cmd = new SqlCommand("select jointype from User_Detail where userid='" + l8 + "'", con);
                    con.Open();
                    dr = cmd.ExecuteReader();
                    if (dr.Read())
                    {
                        jointype = dr[0].ToString();
                    }
                    con.Close();
                    if (jointype == "Paid")
                    {
                        i8.Src = "TreeImages/B.jpg";
                    }
                    else
                    {
                        i8.Src = "TreeImages/G.jpg";
                    }
                }
                if (r9 != "")
                {
                    Lb9R.Visible = true;
                    Lb9R.Text = r9;
                    cmd = new SqlCommand("select jointype from User_Detail where userid='" + r9 + "'", con);
                    con.Open();
                    dr = cmd.ExecuteReader();
                    if (dr.Read())
                    {
                        jointype = dr[0].ToString();
                    }
                    con.Close();
                    if (jointype == "Paid")
                    {
                        i9.Src = "TreeImages/B.jpg";
                    }
                    else
                    {
                        i9.Src = "TreeImages/G.jpg";
                    }
                }
            }
            if (r5 != "")
            {
                Lb5R.Visible = true;
                Lb5R.Text = r5;
                cmd = new SqlCommand("select jointype from User_Detail where userid='" + r5 + "'", con);
                con.Open();
                dr = cmd.ExecuteReader();
                if (dr.Read())
                {
                    jointype = dr[0].ToString();
                }
                con.Close();
                if (jointype == "Paid")
                {
                    i5.Src = "TreeImages/B.jpg";
                }
                else
                {
                    i5.Src = "TreeImages/G.jpg";
                }
                ss.find(r5, out L, out R);
                string l10 = L.ToString();
                string r11 = R.ToString();
 
                if (l10 != "")
                {
                    Lb10L.Visible = true;
                    Lb10L.Text = l10;
                    cmd = new SqlCommand("select jointype from User_Detail where userid='" + l10 + "'", con);
                    con.Open();
                    dr = cmd.ExecuteReader();
                    if (dr.Read())
                    {
                        jointype = dr[0].ToString();
                    }
                    con.Close();
                    if (jointype == "Paid")
                    {
                        i10.Src = "TreeImages/B.jpg";
                    }
                    else
                    {
                        i10.Src = "TreeImages/G.jpg";
                    }
                }
                if (r11 != "")
                {
                    Lb11R.Visible = true;
                    Lb11R.Text = r11;
                    cmd = new SqlCommand("select jointype from User_Detail where userid='" + r11 + "'", con);
                    con.Open();
                    dr = cmd.ExecuteReader();
                    if (dr.Read())
                    {
                        jointype = dr[0].ToString();
                    }
                    con.Close();
                    if (jointype == "Paid")
                    {
                        i11.Src = "TreeImages/B.jpg";
                    }
                    else
                    {
                        i11.Src = "TreeImages/G.jpg";
                    }
                }
            }
        }
        if (r3 != "")
        {
            Lb3R.Visible = true;
            Lb3R.Text = r3;
            cmd = new SqlCommand("select jointype from User_Detail where userid='" + r3 + "'", con);
            con.Open();
            dr = cmd.ExecuteReader();
            if (dr.Read())
            {
                jointype = dr[0].ToString();
            }
            con.Close();
            if (jointype == "Paid")
            {
                i3.Src = "TreeImages/B.jpg";
            }
            else
            {
                i3.Src = "TreeImages/G.jpg";
            }
            ss.find(r3, out L, out R);
            string l6 = L.ToString();
            string r7 = R.ToString();
            if (l6 != "")
            {
                Lb6L.Visible = true;
                Lb6L.Text = l6;
                cmd = new SqlCommand("select jointype from User_Detail where userid='" + l6 + "'", con);
                con.Open();
                dr = cmd.ExecuteReader();
                if (dr.Read())
                {
                    jointype = dr[0].ToString();
                }
                con.Close();
                if (jointype == "Paid")
                {
                    i6.Src = "TreeImages/B.jpg";
                }
                else
                {
                    i6.Src = "TreeImages/G.jpg";
                }
                ss.find(l6, out L, out R);
                string l12 = L.ToString();
                string r13 = R.ToString();
                if (l12 != "")
                {
                    Lb12L.Visible = true;
                    Lb12L.Text = l12;
                    cmd = new SqlCommand("select jointype from User_Detail where userid='" + l12 + "'", con);
                    con.Open();
                    dr = cmd.ExecuteReader();
                    if (dr.Read())
                    {
                        jointype = dr[0].ToString();
                    }
                    con.Close();
                    if (jointype == "Paid")
                    {
                        i12.Src = "TreeImages/B.jpg";
                    }
                    else
                    {
                        i12.Src = "TreeImages/G.jpg";
                    }
                }
                if (r13 != "")
                {
                    Lb13R.Visible = true;
                    Lb13R.Text = r13;
                    cmd = new SqlCommand("select jointype from User_Detail where userid='" + r13 + "'", con);
                    con.Open();
                    dr = cmd.ExecuteReader();
                    if (dr.Read())
                    {
                        jointype = dr[0].ToString();
                    }
                    con.Close();
                    if (jointype == "Paid")
                    {
                        i13.Src = "TreeImages/B.jpg";
                    }
                    else
                    {
                        i13.Src = "TreeImages/G.jpg";
                    }
                }
            }
            if (r7 != "")
            {
                Lb7R.Visible = true;
                Lb7R.Text = r7;
                cmd = new SqlCommand("select jointype from User_Detail where userid='" + r7 + "'", con);
                con.Open();
                dr = cmd.ExecuteReader();
                if (dr.Read())
                {
                    jointype = dr[0].ToString();
                }
                con.Close();
                if (jointype == "Paid")
                {
                    i7.Src = "TreeImages/B.jpg";
                }
                else
                {
                    i7.Src = "TreeImages/G.jpg";
                }
                ss.find(r7, out L, out R);
                string l14 = L.ToString();
                string r15 = R.ToString();
                if (l14 != "")
                {
                    Lb14L.Visible = true;
                    Lb14L.Text = l14;
                    cmd = new SqlCommand("select jointype from User_Detail where userid='" + l14 + "'", con);
                    con.Open();
                    dr = cmd.ExecuteReader();
                    if (dr.Read())
                    {
                        jointype = dr[0].ToString();
                    }
                    con.Close();
                    if (jointype == "Paid")
                    {
                        i14.Src = "TreeImages/B.jpg";
                    }
                    else
                    {
                        i14.Src = "TreeImages/G.jpg";
                    }
                }
                if (r15 != "")
                {
                    Lb15R.Visible = true;
                    Lb15R.Text = r15;
                    cmd = new SqlCommand("select jointype from User_Detail where userid='" + r15 + "'", con);
                    con.Open();
                    dr = cmd.ExecuteReader();
                    if (dr.Read())
                    {
                        jointype = dr[0].ToString();
                    }
                    con.Close();
                    if (jointype == "Paid")
                    {
                        i15.Src = "TreeImages/B.jpg";
                    }
                    else
                    {
                        i15.Src = "TreeImages/G.jpg";
                    }
                }
            }
        }
    }
 
    protected void ImgBack_Click(object sender, ImageClickEventArgs e)
    {
        bk = ((ArrayList)Session["temp"]);
        int count = bk.Count;
        if (count > 0)
        {
            string last = bk[count - 1].ToString();
            bk.Remove(last);
            Session["temp"] = bk;
            detail(last);
        }
        else if (count == 0)
        {
            detail("100000");
            ScriptManager.RegisterStartupScript(this, this.GetType(), "Binary Tree Demo", "alert('This is Last User ID');", true);
        }
    }
    protected void Lb2L_Click(object sender, EventArgs e)
    {
        if (Lb2L.Text == "Blank")
        {
            if (Lb1.Text != "Blank")
            {
                reduserid = Lb1.Text;
                redside = "Left";
                string url = "Registration.aspx?reduserid=" + reduserid + "&redside=" + redside;
                Response.Redirect(url);
            }
            else
            {
                ScriptManager.RegisterStartupScript(this, this.GetType(), "Binary Tree Demo", "alert('For registration Parent should not be blank');", true);
            }
 
        }
        else
        {
            bk = ((ArrayList)Session["temp"]);
            bk.Add(Lb2L.Text);
            Session["temp"] = bk;
            detail(Lb2L.Text);
        }
    }
    protected void Lb3R_Click(object sender, EventArgs e)
    {
        if (Lb3R.Text == "Blank")
        {
            if (Lb1.Text != "Blank")
            {
                reduserid = Lb1.Text;
                redside = "Right";
                string url = "Registration.aspx?reduserid=" + reduserid + "&redside=" + redside;
                Response.Redirect(url);
            }
            else
            {
                ScriptManager.RegisterStartupScript(this, this.GetType(), "Binary Tree Demo", "alert('For registration Parent should not be blank');", true);
            }
        }
        else
        {
            bk = ((ArrayList)Session["temp"]);
            bk.Add(Lb3R.Text);
            Session["temp"] = bk;
            detail(Lb3R.Text);
        }
    }
    protected void Lb4L_Click(object sender, EventArgs e)
    {
        if (Lb4L.Text == "Blank")
        {
            if (Lb2L.Text != "Blank")
            {
                reduserid = Lb2L.Text;
                redside = "Left";
                string url = "Registration.aspx?reduserid=" + reduserid + "&redside=" + redside;
                Response.Redirect(url);
            }
            else
            {
                ScriptManager.RegisterStartupScript(this, this.GetType(), "Binary Tree Demo", "alert('For registration Parent should not be blank');", true);
            }
 
        }
        else
        {
            bk = ((ArrayList)Session["temp"]);
            bk.Add(Lb4L.Text);
            Session["temp"] = bk;
            detail(Lb4L.Text);
        }
    }
    protected void Lb5R_Click(object sender, EventArgs e)
    {
        if (Lb5R.Text == "Blank")
        {
            if (Lb2L.Text != "Blank")
            {
                reduserid = Lb2L.Text;
                redside = "Right";
                string url = "Registration.aspx?reduserid=" + reduserid + "&redside=" + redside;
                Response.Redirect(url);
            }
            else
            {
                ScriptManager.RegisterStartupScript(this, this.GetType(), "Binary Tree Demo", "alert('For registration Parent should not be blank');", true);
            }
        }
        else
        {
            bk = ((ArrayList)Session["temp"]);
            bk.Add(Lb5R.Text);
            Session["temp"] = bk;
            detail(Lb5R.Text);
        }
    }
    protected void Lb6L_Click(object sender, EventArgs e)
    {
        if (Lb6L.Text == "Blank")
        {
            if (Lb3R.Text != "Blank")
            {
                reduserid = Lb3R.Text;
                redside = "Left";
                string url = "Registration.aspx?reduserid=" + reduserid + "&redside=" + redside;
                Response.Redirect(url);
            }
            else
            {
                ScriptManager.RegisterStartupScript(this, this.GetType(), "Binary Tree Demo", "alert('For registration Parent should not be blank');", true);
            }
        }
        else
        {
            bk = ((ArrayList)Session["temp"]);
            bk.Add(Lb6L.Text);
            Session["temp"] = bk;
            detail(Lb6L.Text);
        }
    }
    protected void Lb7R_Click(object sender, EventArgs e)
    {
        if (Lb7R.Text == "Blank")
        {
            if (Lb3R.Text != "Blank")
            {
                reduserid = Lb3R.Text;
                redside = "Right";
                string url = "Registration.aspx?reduserid=" + reduserid + "&redside=" + redside;
                Response.Redirect(url);
            }
            else
            {
                ScriptManager.RegisterStartupScript(this, this.GetType(), "Binary Tree Demo", "alert('For registration Parent should not be blank');", true);
            }
        }
        else
        {
            bk = ((ArrayList)Session["temp"]);
            bk.Add(Lb7R.Text);
            Session["temp"] = bk;
            detail(Lb7R.Text);
        }
    }
    protected void Lb8L_Click(object sender, EventArgs e)
    {
        if (Lb8L.Text == "Blank")
        {
            if (Lb4L.Text != "Blank")
            {
                reduserid = Lb4L.Text;
                redside = "Left";
                string url = "Registration.aspx?reduserid=" + reduserid + "&redside=" + redside;
                Response.Redirect(url);
            }
            else
            {
                ScriptManager.RegisterStartupScript(this, this.GetType(), "Binary Tree Demo", "alert('For registration Parent should not be blank');", true);
            }
        }
        else
        {
            bk = ((ArrayList)Session["temp"]);
            bk.Add(Lb8L.Text);
            Session["temp"] = bk;
            detail(Lb8L.Text);
        }
    }
    protected void Lb9R_Click(object sender, EventArgs e)
    {
        if (Lb9R.Text == "Blank")
        {
            if (Lb4L.Text != "Blank")
            {
                reduserid = Lb4L.Text;
                redside = "Right";
                string url = "Registration.aspx?reduserid=" + reduserid + "&redside=" + redside;
                Response.Redirect(url);
            }
            else
            {
                ScriptManager.RegisterStartupScript(this, this.GetType(), "Binary Tree Demo", "alert('For registration Parent should not be blank');", true);
            }
        }
        else
        {
            bk = ((ArrayList)Session["temp"]);
            bk.Add(Lb9R.Text);
            Session["temp"] = bk;
            detail(Lb9R.Text);
        }
    }
    protected void Lb10L_Click(object sender, EventArgs e)
    {
        if (Lb10L.Text == "Blank")
        {
            if (Lb5R.Text != "Blank")
            {
                reduserid = Lb5R.Text;
                redside = "Left";
                string url = "Registration.aspx?reduserid=" + reduserid + "&redside=" + redside;
                Response.Redirect(url);
            }
            else
            {
                ScriptManager.RegisterStartupScript(this, this.GetType(), "Binary Tree Demo", "alert('For registration Parent should not be blank');", true);
            }
        }
        else
        {
            bk = ((ArrayList)Session["temp"]);
            bk.Add(Lb10L.Text);
            Session["temp"] = bk;
            detail(Lb10L.Text);
        }
    }
    protected void Lb11R_Click(object sender, EventArgs e)
    {
        if (Lb11R.Text == "Blank")
        {
            if (Lb5R.Text != "Blank")
            {
                reduserid = Lb5R.Text;
                redside = "Right";
                string url = "Registration.aspx?reduserid=" + reduserid + "&redside=" + redside;
                Response.Redirect(url);
            }
            else
            {
                ScriptManager.RegisterStartupScript(this, this.GetType(), "Binary Tree Demo", "alert('For registration Parent should not be blank');", true);
            }
        }
        else
        {
            bk = ((ArrayList)Session["temp"]);
            bk.Add(Lb11R.Text);
            Session["temp"] = bk;
            detail(Lb11R.Text);
        }
    }
    protected void Lb12L_Click(object sender, EventArgs e)
    {
        if (Lb12L.Text == "Blank")
        {
            if (Lb6L.Text != "Blank")
            {
                reduserid = Lb6L.Text;
                redside = "Left";
                string url = "Registration.aspx?reduserid=" + reduserid + "&redside=" + redside;
                Response.Redirect(url);
            }
            else
            {
                ScriptManager.RegisterStartupScript(this, this.GetType(), "Binary Tree Demo", "alert('For registration Parent should not be blank');", true);
            }
        }
        else
        {
            bk = ((ArrayList)Session["temp"]);
            bk.Add(Lb12L.Text);
            Session["temp"] = bk;
            detail(Lb12L.Text);
        }
    }
    protected void Lb13R_Click(object sender, EventArgs e)
    {
        if (Lb13R.Text == "Blank")
        {
            if (Lb6L.Text != "Blank")
            {
                reduserid = Lb6L.Text;
                redside = "Right";
                string url = "Registration.aspx?reduserid=" + reduserid + "&redside=" + redside;
                Response.Redirect(url);
            }
            else
            {
                ScriptManager.RegisterStartupScript(this, this.GetType(), "Binary Tree Demo", "alert('For registration Parent should not be blank');", true);
            }
        }
        else
        {
            bk = ((ArrayList)Session["temp"]);
            bk.Add(Lb13R.Text);
            Session["temp"] = bk;
            detail(Lb13R.Text);
        }
    }
    protected void Lb14L_Click(object sender, EventArgs e)
    {
        if (Lb14L.Text == "Blank")
        {
            if (Lb7R.Text != "Blank")
            {
                reduserid = Lb7R.Text;
                redside = "Left";
                string url = "Registration.aspx?reduserid=" + reduserid + "&redside=" + redside;
                Response.Redirect(url);
            }
            else
            {
                ScriptManager.RegisterStartupScript(this, this.GetType(), "Binary Tree Demo", "alert('For registration Parent should not be blank');", true);
            }
        }
        else
        {
            bk = ((ArrayList)Session["temp"]);
            bk.Add(Lb14L.Text);
            Session["temp"] = bk;
            detail(Lb14L.Text);
        }
    }
    protected void Lb15R_Click(object sender, EventArgs e)
    {
        if (Lb15R.Text == "Blank")
        {
            if (Lb7R.Text != "Blank")
            {
                reduserid = Lb7R.Text;
                redside = "Right";
                string url = "Registration.aspx?reduserid=" + reduserid + "&redside=" + redside;
                Response.Redirect(url);
            }
            else
            {
                ScriptManager.RegisterStartupScript(this, this.GetType(), "Binary Tree Demo", "alert('For registration Parent should not be blank');", true);
            }
        }
        else
        {
            bk = ((ArrayList)Session["temp"]);
            bk.Add(Lb15R.Text);
            Session["temp"] = bk;
            detail(Lb15R.Text);
        }
    }
}
TreeShow Class file code:
using System;
using System.Collections.Generic;
using System.Linq;
using System.Web;
using System.Configuration;
using System.Data;
using System.Data.SqlClient;
 
/// <summary>
/// Summary description for TreeShow
/// </summary>
public class TreeShow
{
 
        SqlConnection con;
        SqlCommand cmd;
        SqlDataAdapter da;
        DataSet ds;
        DataTable dt;
        SqlDataReader dr;
        string sql;
 
        int status;
        public TreeShow()
        {
            con = new SqlConnection(ConfigurationSettings.AppSettings["str"]);
        }
 
        string msg;
 
        public void find(string apid, out string Left, out string Right)
        {
            Left = "";
            Right = "";
            cmd = new SqlCommand("select lleg,rleg from User_Detail where userid='" + apid + "'", con);
            con.Open();
            dr = cmd.ExecuteReader();
            if (dr.Read())
            {
                if (dr[0].ToString() != "")
                {
                    Left = dr[0].ToString();
                }
                if (dr[1].ToString() != "")
                {
 
                    Right = dr[1].ToString();
                }
            }
            con.Close();
        }
 
        public DataTable fillUserDetail(string apid)
        {
            DataTable ufill = new DataTable();
            da = new SqlDataAdapter("select name,ljoining,rjoining,pair,jointype from User_Detail where userid='" + apid + "'", con);
            da.Fill(ufill);
            return ufill;
 
        }
 
}
Connection string in web.config:
<appSettings>
    <add key="str" value="Data Source=.\SQLEXPRESS;AttachDbFilename=|DataDirectory|\BinaryTree.mdf;Integrated Security=True;User Instance=True"/>
  </appSettings>
Download Binary Tree Sample Code:
---
11 Comments
thank you so much.

thank you so much.

Dear sir please give the complete project of mlm i want to learn it

This code seems to be good who code in asp.net....
But since I am a PHP debveloper, can i get the same code in PHP please.....
That would be a great help to me. Thanks in advance......

Avinash Kumar

Awesome article.

can u help me out in Payment System in MLM. when pair is complete than show rupee.
Please help me

plz any one provide me Insert Data in binary tree MLM from user side likes registration . step by step

If i am making pair how to get time. my pair calculation is 2 left side and 1 right side after that 1 left and 1 right.
so how to make it. Please suggest me
This is my mobile No. 9548614692

Thank You so Much..

Thank u so much

Sir Please send me full Source
Please,Please,Please,Please,Please,Please,Please,Please,Please,Please,Please,Please,Please,Please,Please,Please,Please,Please,Please,Please,Please,Please,Please,Please,Please,Please,Please,Please,Please,Please,Please,Please,Please,Please,Please,Please